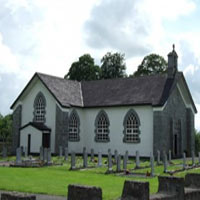 The Church of the Annunciation was built in 1826 to replace an earlier thatched building, dating from 1750. The 18th century building was only 30 meters by 60 meters and was located near to the river. Like St. Brendan's Parish Church the building is cruciform in shape. The original exposed rafters are an interesting feature of this village church. Originally the building had two side galleries, in addition to the existing organ gallery. These were removed during extensive renovation in the mid 1970's. The current altar table dates from that period.
Known simply as Carrig Church until 1976, it was named 'The Church of the Annunciation', following the completion of the Vatican 11 renewal. The late Msgr. P.J. Hammell P.P.V.G. dedicated it to the Annunciation, inspired by the top panels of the sanctuary window depicting the Mary and the Angel Gabriel. The Latin quotation on this part of the window is the beginning of The Angelus: 'The Angel of the Lord declared unto Mary….'.
This window is a wonderful art work and was donated to the Church by Mary Scully, in memory of The Scully Family. She died in 1950 and is buried in the adjoining cemetery.
The pipe organ was acquired from the former Convent of Mercy (now Birr Civic Offices and Library), when it closed in 1996. Originally purchased by the Mercy Sisters in 1879, from the Birr Church of Ireland, this organ is the only traction organ in Killaloe Diocese.
The Stations of the Cross came from St. Brendan's Church following the commissioning of the current stations in Birr.
Until the mid 20th century there was no cemetery at Carrig and most burials took place in the historic Lockeen or Clonoghill Cemeteries.